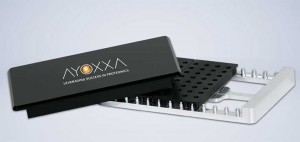 AYOXXA's new multiplex protein detection platform, called LUNARIS™ is now available in the core facility. With ready-to-use BioChips and the respective Analysis Software, LUNARIS™ enables to quantify multiple protein targets in a single sample, particularly in areas where precious sample volume is a limiting factor.
YOUR ADVANTAGES:
measure multiple protein biomarkers in down to 3 µL sample volume
detect each biomarker in low pg/mL concentrations
analyze 3-4 log scale dynamic range
scalable from 32 up to 384 tests in commonly used MTP format
gaining insights with our new cytokine panel
integrate protein multiplexing into your daily lab routine
LUNARIS™ BioChips offer a new multiplex protein assay based on antibody-coated microspheres on a solid surface (BioChip). During chip production, bead families carrying capture antibodies specific for different targets are sequentially deposited, creating a unique pattern for every well. For identification the bead coordinates are provided as a chip-specific Decoding File. LUNARIS™ BioChips, decoding files, reagents and diluents are included in a ready-to-use kit while Base Frame, lid and Analysis Suite Software are provided as accessories.
Ayoxxa currently offers
LUNARIS™ Human 6-Plex Cytokine Kit96:
Analytes: IL-1β, IL-2, IL-6, IL-8, TNFα, VEGF
Matrices: serum, cell culture supernatant, aqueous humor and vitreous humor
Cat. No. LHC-10061S (1×32 well element) and LHC-10061 (3×32 well elements)
LUNARIS™ Mouse 6-Plex Cytokine Kit96:
Analytes: IL-2, IL-4, IL-6, IL-10, TNFα, IFNƔ
Matrices: serum & cell culture supernatant
Cat. No. LMC-10061S (1×32 well element) and LMC-10061 (3×32 well element)
For more information, please contact Dr. Oliver Gresch (oliver.gresch@ayoxxa.com; +4915167407528) or us under fccf@uni-bonn.de