Cellsorter:
Cell sorting is mainly performed by experienced operators from the Core Facility. Three high-end, high-speed cell sorters are available:
BD FACSAria Fusion (biosafety level S2 approval), BD FACSAria III, BD Influx
For operator free cell sorting of less advanced applications the BD FACSMelody system is available.
Analyzer:
Researchers are trained by Core Facility personnel to perform their experiments without assistance of an operator. The Core Facility takes care of seven analyzers from standard 3 laser, eight color systems to five laser, 18 color instruments. Users receive detailed advice and support on the choice of dyes and equipment that are best suited to answer their scientific questions.
Systems available include:
BD LSRFortessa (2X), FACSCantoII (3X), Invitrogen AttuneNXT, Miltenyi MACSQuant
Imaging Cytometry:
Imaging Flow Cytometry combines the speed, sensitivity, and phenotyping abilities of flow cytometry with the detailed imagery and functional insights of microscopy. The Amnis ImageStream X MarkII imaging cytometer is fully equipped with three objectives and seven excitation lasers.
Researchers receive support in experiment design and data analysis by the Core Facility staff.
Bead Based Cytometry:
Multiplexed, bead-based analysis of cytokines, hormones or many other soluble bio-molecules can be conducted on a Flow Cytometer specially developed for this application: Luminex200 System (up to 80 analytes simultaneously).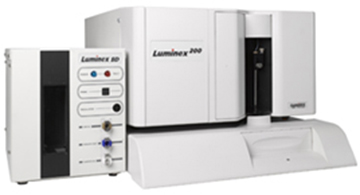 Luminex200