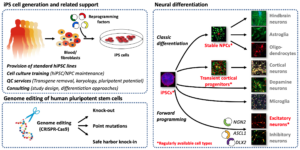 The Cell Programming Core Facility employs state-of-the-art cell (re-)programming, genome editing as well as differentiation technologies and is constantly refining its technological portfolio. To promote the establishment of innovative stem cell-based in vitro models we offer the following services:

Generation and provision of human iPS cell lines
As starting material for iPS cell derivation we accept skin fibroblasts or peripheral blood mononuclear cells (PBMCs). Donor cells are reprogrammed using the latest Sendai virus-based reprogramming vectors that guarantee transient introduction of transgenes to avoid the stable integration of reprogramming factors. As a standard procedure, we isolate and expand up to five clonal iPS cell lines per subject for cryopreservation and subsequent shipping to the investigator. Depending on the recipients' demands, selected clones are subjected to standardized quality control regimens (ICC and gene expression profiling for pluripotency analysis, assessment of transgene removal, STR analysis, SNP genotyping).
Genome editing
We also offer genome editing services for the generation of isogenic iPS cell lines with KO alleles, introduced and repaired point mutations as well as the targeted introduction of transgene expression cassettes into the genomic 'safe harbor' locus AAVS1.
Neural differentiation of iPS cells
The Cell Programming Core Facility has in-depth expertise in the differentiation of iPS cells into neural precursors as well as terminally differentiated neural cells. Currently, we provide the generation and provision of stable neural precursor cells (NPCs), cortical NPCs and NGN2-induced excitatory forebrain neurons, all of which are available in cryopreserved formats. Please contact us for availability of other neural cell types.