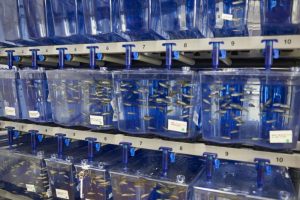 As a core facility we offer an all around service for our users.
Import and rising of new zebrafish lines
Keeping and mating of zebrafish lines on behalf of our users
Injection of zebrafish eggs or embryos
Transplantation of cells into two or three days old zebrafish larvae
Generating of new zebrafish lines
Support on imaging on our own fluoreszenz, confocal or two photon microscopes
Direct transfer of fish samples to electron microscopy core facility (in house)
Injections and imaging are normally done together by our core facility manager and the user. The close teamwork will help the user a lot in the later interpration and analyses of the fish data as well as planing for the next steps of your experiment.
Internal (UKB,
University Bonn)
Academic
External
External
Fishline keeping
per tank and month
7,50 €
7,50 €
10,00 €
Fishegg injection
90,00 €
90,00 €
150,00 €
Fishegg injection + imaging or
screening for positiv fish
250,00 €
250,00 €
300,00 €
breeding and rearing of larvae
per line and month
20,00 €
20,00 €
25,00 €
Fisch Import 
DE/ EU/ World
100 / 220 / 700 €
100 / 220 / 700 €
125 / 300 / 900 €
Cell Transplantation
180,00 €
180,00 €
220,00 €
Cell Transplantation + imaging
380,00 €
380,00 €
460,00 €