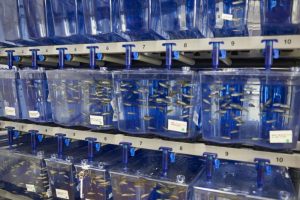 The idea of our zebrafish core facility within the medical faculty of the University of Bonn is twice:
To give easy access, possibilities and help to all researches to rise, maintain, bread and initially screen and/or genotype their zebrafish lines of interest within the fish facility (fish-room) of the newly established core facility.
To provide expertise, equipment and help to all researchers who plan to do transient injection experiments into fertilized fish eggs. We generate transient fish and also screen them as research models in order to generate transgenic zebrafish lines (after application).
For this purpose our zebrafish core facility is equipped with:
– Freshwater fish-racks providing space for 200 three-liter fish tanks (~ 20 fish each)
– Breeding tanks for daily matings of up to 50 fish-pairs
– Wild type line zebrafish for matings to get fish eggs
– 2 manual air pressure fish egg injection setups (with stereo microscopes)
– Temperature and light controlled incubator for rising of fish embryos
– Fluorescence stereomicroscope for screening and imaging (assisted or unassisted)
– 2-photon fluorescence in vivo imaging of zebrafish larvae (assisted)
| | | | |
| --- | --- | --- | --- |
|   | Internal (UKB, University Bonn) | Academic External (University etc.) | External |
| Fishline keeping per tank and month | 7,50 € | 7,50 € | 26,50 € |
| Fishegg injection | 50,00 € | 50,00 € | 217,00 € |
| Fishegg injection + screening for positiv fish | 150,00 € | 150,00 € | 385,00 € |
| breeding and rearing of larvae per line and month | 20,00 € | 20,00 € | 60,00 € |
| providing adult fish | 2,50 € | 2,50 € | 9,00 € |