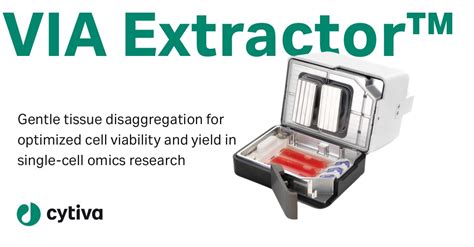 WEBINAR from Cytiva: Challenges of tissue dissociation for single-cell omics
Overcoming the challenges of tissue dissociation for single- cell omics with the VIA Extractor™ tissue disaggregator
SPEAKER
Angeliki Achimastou,
Product Manager for Single-Cell, Genomics and Diagnostics Solutions, Cytiva
LEARNING OBJECTIVES
Discover how tissue processing impacts cell viability and downstream results
Learn how VIA Extractor™ tissue disaggregator generates suspensions of high-quality single cells
KEY FACTS VIA EXTRACTOR™
Gentle: Optimized cell viability and yield from low impact disaggregation
Standardized: Consistent process, output and yield reduce sample-to-sample variation
Fast, simple, and semi-automated process
If you are interested in testing the VIA Extractor™ for your projects, please reach out to Andreas Dolf after the webinar. We will have a demo slot beginning of 2023.
You will find a .PDF file for downloading and printing here "Webinar invitation VIA Extractor 08.11.2022″
—————-
Disclaimer:  The Core Facilities will only support commercial events where the topic is of genuine interest to our users; for example novel products and methods that might be beneficial for the research projects running in the core. The Core Facility serves as host of the event and members of the Core Facility will be present. We welcome debate. The event is meant to discuss and comment on the topic presented and not for plain product presentation. We will distinguish between a scientific discussion and a promotional campaign. And we do not have any financial interests in or benefits from this event.